Relevant Tips How to Find a Job Abroad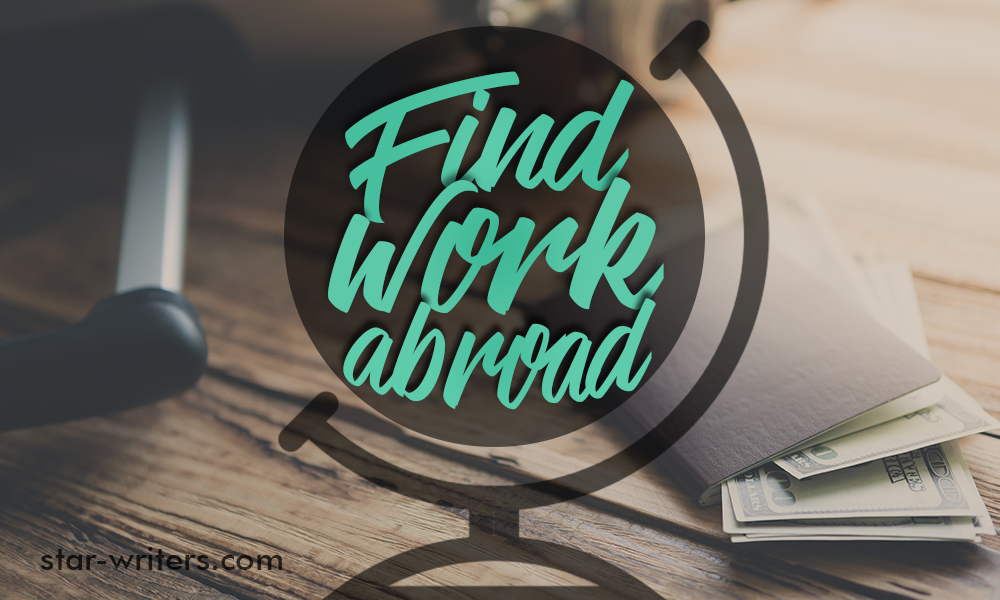 Working abroad can become a fantastic opportunity to make some money, gain professional experience, improve language skills and enjoy a foreign culture. Many people view it as a happy fairytale that could solve all their problems. However, work abroad can have some pitfalls and if you don't want to get into them, you'd better prepare ahead. The following tips are going to help you to find a good job in a foreign country without getting into any unfortunate situations. These advices will vary from composing your CV to learning how to communicate. And if you visit Star-Writers blog, you will be able to find more helpful articles about all types of popular topics.
Secure Ways to Get a Job Abroad
Most of the young people, especially from developing countries, see a chance of working abroad like a dream coming true. Indeed, such experience can teach a young person a lot, and not only professional skills, but independence and perseverance. Those who have already worked in a foreign country know that it is not all frills and flowers. It is a real challenge and can be really scary and even dangerous. So before you make a decision to take a certain job position and board a plane, you'd better read these recommendations. They will allow you to get yourself a secure, well paid and safe position.
Strong points. First of all, before you start searching jobs online, you need to understand what you can do. To get a position that you would really benefit from, you have to identify your strong points. Think, what can you do the best? And what do you enjoy doing the most among those things? Somewhere in between will be your perfect job. If you don't have any previous specialized job experience, be prepared to do low-qualified and physical labor, like farm work or cleaning. Make a list of jobs you would prefer and focus on them when conducting your search;
Certificates. The more qualified position you wish to get, the more official certificated you would need to have. Since you and your prospective employer live in different countries, it is hard for them to evaluate you properly based only on your resume. But it is different if you have some international standard certificates that prove you are qualified enough for the job. If you have a college degree, make sure you get it translated into the language of the country on in English, and make scan copies that you can attach to your online application. Some world recognized language certificates would also increase your chances of getting a good position, for example TOEFL of IELTS;
Resume or CV. Nowadays, there is no chance of getting a job position abroad, especially a good one, without a proper resume. This is the first thing that employer sees, in some way it is your face, so make sure to create a resume that creates a good impression. Take your time while composing a resume; it has to be a perfect representation of who you are as a professional. Make an outline beforehand, list your qualifications, skills, experiences. Look at resume templates and samples online to understand what works the best. However, if you don't want to lose this important game, you can entrust this task to professionals. Star-Writers will compose a winning resume for you. And don't worry about the cost, our pricing policy is very friendly and if you sigh up right now you can receive a generous discount for using our writing services;
Go online. It's hard to imagine how people could find a job abroad without existing of the internet. Luckily, now any of us can try their luck and apply for a job in any country on the planet. However, you must also learn how to use the internet to your benefit, because there are few different way to search for job online:
Job websites. There are hundreds of job websites available online, where you can view all sorts of vacancies absolutely for free. You should use their various options to help you find a better job. First of all, post your resume so prospective employers can get in touch with you. Second, subscribe to receive email alerts when new jobs are published;
Online groups. You can find lots of groups on various social network websites, such as Facebook or Linkdn, that focus on exchanging information about working abroad. Become a member of one of these groups and you will be able to learn about new job opportunities and communicate with people, who already have similar experience.
Communicate. Going to a strange country, so far away from home, where you don't know anyone, can be challenging and even dangerous experience. That is why you should talk to someone who had already been in the similar situation and knows all pitfalls. It can be your close friend or somebody you meet online. Spend some time talking to that person and ask all the questions that interest you. This person might also share with you some useful contacts and even help you to get a job at the place where he or she worked;
Language skills. If you want to succeed in another country, then good language skills are essential for you. The better you are able communicate, the higher are your chances to get a good position. Spend some time improving your language skills, for example attend language classes or conversation clubs, watch foreign movies and read that country's news. You can also practice your English by reading free essay samples on our blog and practicing writing. Higher language proficiency would mean higher chances to get a job, which is more qualified. Improve your language skills, so you could create a positive impression on a prospective employer during your job interview via Skype.
Get In Touch
Working abroad can be an unforgettable experience for those who are prepared and organized. Following the above tips, you will be able to secure yourself a well-paid and promising position in any country on the planet. The most important thing to remember is that your resume is your face, and if you want to create a positive impression and win that job position, you need to work hard on your resume. And the safest way is getting in touch with Star-Writers. They will make sure to create a star resume for you that could charm even the most sophisticated employers.