How to Craft a Notable Personal Statement Essay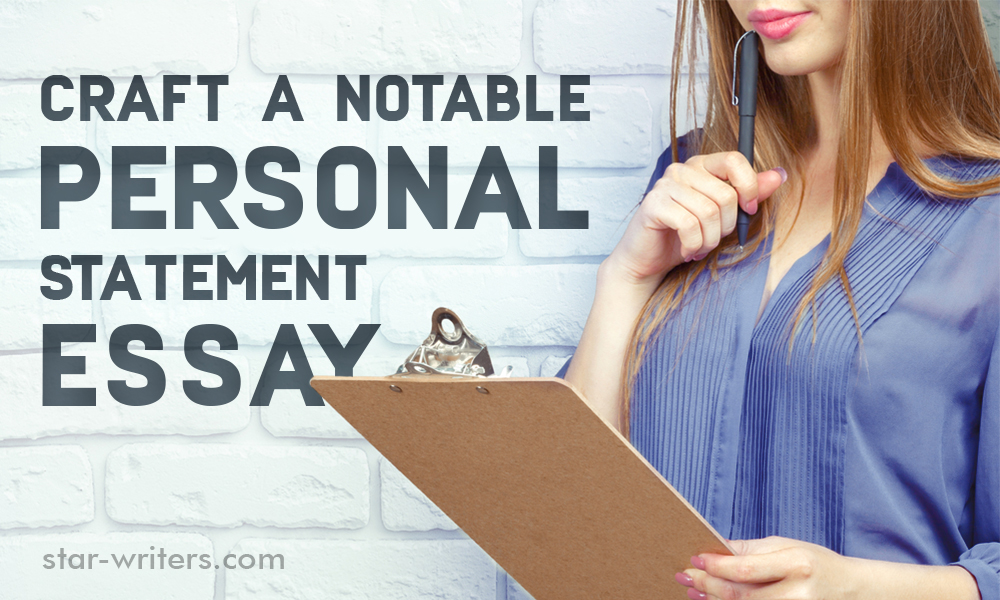 Essay on personal statement is your chance to make your dream come true by getting accepted into the right college or university. For example, law school personal statement essays play important part in selection of candidates, thus it is crucial to take the task of composing personal statement essay seriously and carefully. Personal statement essays are also often required when you apply for a grant or another type of scholarly or artistic awards.  There are certain rules and general advice about crafting personal statement essays for college, which we are going to discuss today. But first of all we will try to figure out in more detail, what is a personal statement essay? And if afterwards, you still have some questions, you are welcome to contact Star-Writers and get all the answers you need.
What Personal Statement Essay Is
What is so special about personal statement essay and how does it differ from regular essay? First of all, don't confuse the personal statement essay with college admission essay. Both of these essay types are used for applying into a college or university. Sometimes an admission committee might request you to write both of the essays, sometimes they can be interchangeable and other times a personal statement essay can be used as a college admission essay. As a rule admission essay has a certain topic or writing prompt that it must follow, it can be a narrative or argumentative essay. However, a personal statement essay is called to answer a specific question, such as why you choose this particular major, university, or why you think you will be good at it. You have to pay attention to the application guidelines to make sure you answer the right question. Star-Writers will gladly assist you at this important stage of your life. You can order personal statement essay to be custom written for you, otherwise our editors can help you to edit the one you have already written. 
Before Writing Personal Statement Essay
If you want to get everything right, there are some things to consider before you begin composing your personal statement essay. This type of essay requires you to write about your own life, achievements, goals and other personal details. Therefore, it is important to take some time and looked at your life from the perspective. Take a notebook and a pen, and try to answer yourself to some of the following questions. It will help you later to choose the right ideas and to form them better.
Is there anything special, unique or distinctive about your life? Does it differ in any particular way from lives of people around?
What kind of personal history detail should admission committee know about you to make the right choice (events that shaped you, family or personal problems, etc.)?
Why did you choose this particular field of studies and what do you already know about it? Give examples if you have any experience with it.
Where or from whom did you learn about this profession? What or who influenced your choice?
Do you have any work experience? Does it in any way relate to the chosen field of studies?
What are you goal in life and career?
Have you ever been forced to deal with any unusual obstacles or complications in your life (for example, how parent's divorce affected you as a child)?
Do you have any personal traits or characteristics that might make you particularly fit for the chosen profession? Describe them and give examples that could prove it.
Do you have any professional or personal skills (computer programming, communication, leadership, social marketing, business correspondence, etc.)?
What makes you stand out among other applicants and why admission committee should choose you before them?
Tips for Successful Personal Statement Essay
Since so much depends on the quality of your personal statement essay, you have to make everything possible to make it perfect. Below you will find some advice that would help you to make the best out of your personal statement.
Answer the exact questions you are being asked. If the admission committee asks you to write about your professional goals, don't go back into memories of how you won a sports medal in grade school. Answer exactly what you are asked about. Moreover, if you apply to multiple colleges, take your time to compose an individual personal statement essay for each college. Resist the temptation to submit the same essay to all colleges. If you have little time for so much writing, ask professional Star-Writers to help you.
Don't be too general. When you answer a particular question in your personal statement essay, try to stay specific and back up every point with an example from your life. Avoid general statements and claims that you cannot support with personal example. Remember, you cannot write one ultimately perfect personal statement essay that would fit for every college you want to apply to.
Tell your story. Don't be afraid to share your personal story with admission committee, even if some episodes of your life are too painful or embarrassing to write about. It is your personal statement and it must convey your unique personal story, and not dry information and facts about some artificially perfect human. Only by being yourself you can attract attention of the admission committee and make them want to give you a chance.
Watch your grammar. Your personal statement essay has to be flawless and perfectly structured before you submit it. Read it multiple times and revise carefully grammar, punctuation and spelling. Also make sure all paragraphs are well structured and have all necessary elements, such as thesis statement and supporting ideas. If you don't have special grammar knowledge then you can always rely on expertly editing services from Star-Writers to polish and organize your writing.
Grab your readers with an opening paragraph. Remember that admission office has to review thousands of applications and essays, so if you want them to notice yours it has to grab their attention from the first lines. You can achieve it with the help of strong opening paragraph. Spend some additional time on crafting an opening paragraph; make sure it has some hook that would intrigue and make people keep on reading.
Well thought and prepared personal statement essay can be your lucky tickets into a college of your dream. But before you begin crafting your essay, make sure you answer yourself some important questions, so later you will know what to focus on in your writing. And the above advice will help you to compose your personal statement effectively and with little effort. Moreover, for a very modest price, Star-Writers can help you to save a lot of time and energy on writing and editing.