Day Of The Dead Essay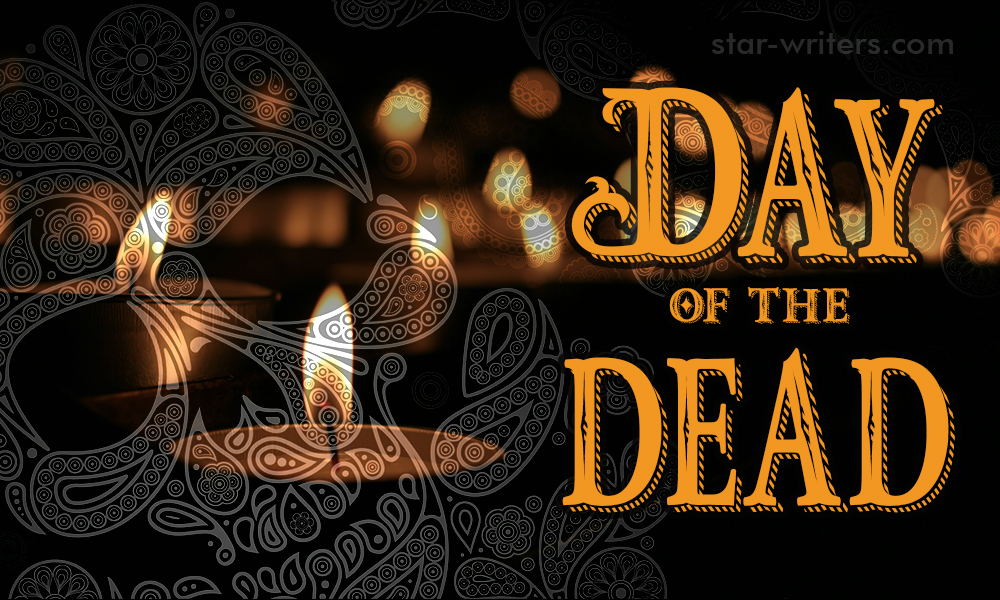 There is nothing wonderful in reckless fest, pervasive fun and thousands of reviving lifeless men, filling the city. That is how Mexico celebrates Day of The Dead. All turns upside down. The darkness of night becomes the light of the day, the cemetery – the most attractive place in the city. Alive people will attire as dead and deceased people will "come alive". Historically, Mexicans have quite another attitude to the afterlife rather than Europeans. Death for them is not the end but continuation of life in different world. Dead people are not commemorated here but met with gladness. History and traditions of this fest are the topic of Day of The Dead essay and popular writer service will tell you about it.
How Did Day Of The Dead Appear?
Celebration of Day of The Dead has its roots as long ago as time of ancient Aztecs and Maya. The system of their beliefs was strongly linked with rituals of death and resurrection. Before Spanish people conquered Mexico, Aztecs had saved skulls of their relatives at home and used them for symbolic ceremonies. Orgy in the form of bloody sacrifices was arranged during one summer month in year. That is how Mexicans showed their appreciation of attention to the dead people, afterworld and its patroness – the goddess Mictlancihuatl.
It already seemed to first conquerors of Mexico that Aztecs taunted the death with the help of their ceremonies. The rituals were considered as sacrilegious. Native population of Central America was converted into Catholicism by force but it was not so easy to liquidate their traditions. Of course, Spanish people managed to cancel bloody sacrifices and shorten monthly orgy until 3 days. However, the idea of replacement of gladness on sorrow and skull (the main symbol of the Day of The Dead) on cross turned out to be impossible.
Find out for yourself, why you have to choose the services of our company here: http://star-writers.com/blog/the-reasons-to-pay-for-an-essay.
Also in this section:
The Main Attributes Of Day Of The Dead
Pagan fest was tried to inscribe as much as possible in Christian canon. Mexicans celebrated Day of The Dead on the ninth month of Aztecs' chronology earlier. Soon after it was carried over on November, 1-2, when Catholics celebrate All Saints' Day and All Souls' Day.
Day Of The Dead is national fest in Mexico. That is why, all days of festival are rest days and schools and enterprises do not work.
According to concepts of Mexicans, lifeless people continue to live in afterworld – Mictlan and bereavement is only transition from one life to another. After a year after bereavement, deceased persons return to their abodes in order to feel the gladness of life, see relatives and friends. People prepare for Day of The Dead in big cities within months. Schools, universities and local communities make masks, costumes and mascots. Musicians rehearse every day and artists draw design of altars. Organizations order trucks of freshly excised flowers. Hence, people do not have atmosphere of fear, which is well expressed in an essay on fear.
Let us look on main attributes of this fest more attentively.
1. Altars and offerings. Altar from yellow marigolds is the symbolic door between the realms, which is called to help souls to visit home. The flower itself is often called as the flower of dead men ­– flor del muerto. Altar has to stay in every house. Mexicans even install them at squares, schools, shops, restaurants, hospitals, hotels and airports in the last few years. Participants of the fest place presents to the altar: flowers, candles, tamale (the dish from corn flour), fruits, toys for children and alcohol for adults. The required attributes are water, as spirits torment from thirst after the travelling, and special sweet bread for deceased men. Women cook the foodstuff the whole day, which deceased relatives or acquaints liked most of all. The bed is tucked in houses, where dead people may have a rest. Friends and relatives gather for the glad meeting with the deceased.
2. Skulls, skeletons and so on. The counters of shops are filled with miniature skulls, skeletons and coffins made of chocolate, argil or board in anticipation of Day Of The Dead. They often stand on windows as small pyramids, distantly bringing back Aztecs' tzompantli – walls of defeated enemies' skulls as the symbol of indissoluble pair "life-death". Skulls and skeletons are everywhere: in windows, at doors. They are drawn on clothes, walls and asphalt. They often have smile on their faces and are performed in bright blithesome colors. You may even get present in the shape of skull or coffin with your name. Do not show surprise – it is done sincerely. It is usual to present them to relatives and acquaintances. Children can even regale themselves with such lollipops in the shape of skulls.
3. La Calavera de la Catrina. Skeleton dressed in rich woman clothes with wide-brimmed hat is also one of the indissoluble symbols of Day of The Dead. It is considered that it is the actual look of the goddess Mictlancihuatl. However, this symbol actually appeared thanks to engraving of artist Jose Guadalupe Posada – La Calavera de la Catrina (1913). Artist aimed to show that rich and successful people were the subject to death. However, in some way or another the image of Catrina with time became ingrained in attributes of Day of The Dead.
4. The visit of cemeteries. This process is considered as culmination of the festival. Parkings near the cemetery have full occupancy and crowds of people go to the cemetery. People adjust graves and strew them with petals, wreaths and bouquets of yellow marigolds. They also decorate them with candles, bring favorite food and beverages of the deceased as also his photos. Picnic and dances to music of mariachi are also organized here. Night hike to the cemetery is not sad event but long-expected convention with relatives, possibility of spending night with them as also time to enjoy, eat and consume in a circle of friends and relatives. It is family idyll near every grave. Men converse, women fuss because of snacks, elder relatives talk funny stories from biography of deceased relative, prinked children play and infants sleep on the hands of parents.
5. Parade of The Dead Men. Nevertheless, tradition of sincere night gatherings is rather usual to the citizens of towns and villages. Population more often organizes real carnival in cities. Day of The Dead is arranged with big range in Oaxaca de Juarez. This is the area of dancing skeletons, bright skulls, brass bands and mariachi. Wandering orchestras fulfill the lonely in the daytime city at night. So-called comparsa, the long processions of dressed up people and just gapers gather after the orchestras. It is strange, but such procession appears suddenly and does not have strict route and schedule. You can join any moment to the dancing crowd and circumambulate to the town in musical madness. Nevertheless, this madness ends with the first sunrays on November 3 until next year. Therefore, we can envy Mexicans in these three days. "It is better than essay of my life" – would be the statement of each of us.
Our staff has special guide for writing of qualitative essay, which you may examine here: http://star-writers.com/blog/say-write-me-essay-if-you-need-help.
Conclusion
Day of The Dead is unique festival of Mexicans, which show that the death is not the end of life. It is rather merry festival in comparison with other festivals dedicated to the topic of death (e.g. Halloween). Every Mexican waits for the only 3 days in a year in order to meet the deceased relatives. It is also a fest of carnival processions. Hence, every lover of gimmicks has to visit this festival.
Do not afraid to place an order at our site. Our company differs wide range of services, which we provide to our clients. We are always ready to help you in any time.
Popular Posts: